PENNSYLVANIA— May 10, 2023 — Today The Chamber of Haunters President and
CEO announced the future formation of "The Chamber University" which will act as the Educational Front for The Chamber of Haunters and provide new and continuing education to members and non-members alike. "I am proud to announce this project as it has been something I have been working toward during my tenure as President and CEO of The Chamber of Haunters and I look forward to working with the Chamber Board to ensure that we can bring about the type of education that so many need and want", says Chamber President Robert Nulton. "I feel there is a lot of great education out there and it is ever evolving but I also feel that this industry deserves to be treated with the same level of respect and equality that other industries receive, and we want to make sure that the world takes this industry just as serious as the many other industries that are out there."
Logo for Chamber University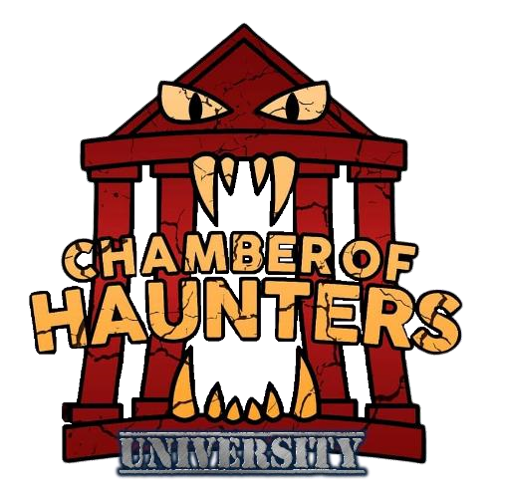 Positive Educational Impact
We believe in providing a "Positive Educational Impact" within the Haunted Attraction Industry and for this purpose, The Chamber of Haunters is doing all it can to be able to provide the industry as a whole with more education to help prepare people for the future as things advance and change.
Educational Availability
This ongoing education will be made available to everyone within the Haunted Attraction
Industry. Members of the Chamber of Haunters will be given free access to all education within the Chamber of Haunters and non-members will pay a "per course" fee to partake in any
education offered within the Chamber of Haunters.
The Chamber of Haunters and The Chamber of Haunters University are either registered trademarks or trademarks of The Chamber of Haunters in the United States and/or other countries.
The names of actual companies and products mentioned herein may be the trademarks of their respective owners.
For more information, press only:
PR Contact Name: Robert Nulton, President and CEO of the Chamber of Haunters
Phone Number: 717-500-1885
Email: President@chamberofhaunters.com
For more information on The Chamber of Haunters University:
Contact: Robert Nulton, President of the Chamber of Haunters
To join the Chamber of Haunters:
Visit our website: www.chamberofhaunters.com